As sources of inspiration, these guys and gals are hard to beat. They've definitely turned their life around through a mix of careful eating and a healthy dose of exercise.
Now it's time to add your name to the list.
Rob Cooper (Former Fat Guy)
Rob has definitely turned his life around, shedding an incredible 300 lb through a combination of hard work and determination. He now leads a superbly active lifestyle, and shows no signs of ever going back to being the 'big guy'. Inspirational.
A couple of personal favorites :
FormerFatGuyBlog.com – Daily thoughts on the weight-loss world. A good read.
FormerFatGuyBlog.com/community –
Excellent forums on all aspects of an active lifestyle and health.
Tracy is a superb example of just how much can be accomplished in 3 years with a mix of strength training (in her case, kettlebells), healthy eating and determination. Although it's an ongoing battle, it's one she's very clearly winning.
A couple of personal favorites :
SSST (Secret Service Snatch Test) video – 295 reps. Particularly the line in the notes 'The rest of my workout…'.
2127 Swing reps w/12kg / 1 Hour
If there was ever any doubt that Tracy possesses an insane level of strength endurance, this settles things. That's an incredible amount of work over a decent period of time. Astonishing.
Great inspiration.
Christian Thibaudeau (Thib System)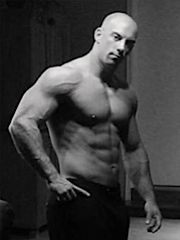 Just in case you thought that personal trainers were born fit and healthy, Christian Thibaudeau takes a very candid look into his past and details exactly how he managed to shed 30 lb and look like someone who spends their days in the gym.
To make this information even more useful, Thib discusses the things he would change if faced with the task again. Not that there's much chance of that happening.
A couple of personal favorites :
The Carb Cycling Codex – A look at how the reintroduction of carbs into a diet can be a very, very good thing.
Destroying fat – Christian examines the three main schools of thought when it comes to strength training for fat loss : High Volume, Lactate Induced and Heavy Lifting. If you're wondering how best to organize your time in the gym, this is a great read.
John Stone fell into a pattern familiar to many people (and I definitely include myself in that number); being reasonably athletic at some point and then gradually letting it all go.
10 years later he decided to make a few major changes, established some fairly tough (but achievable) goals and set to work. As you can see from the photo, he's never looked back.
A couple of personal favorites :
John Stone Fitness Forums – I don't usually spend an incredible amount of time on forums, but I make an exception for these. Very supportive, and full of top-notch information. Highly recommended.
Daily Stats – I have a rather analytical nature, and I love the daily statistics John has recorded, charted and analyzed. Beautiful.
Steve Vaught undertook an incredible challenge beginning in 2005 – to walk across the US. Quite apart from attracting his fair share of media attention, he managed to shed over 100 lb in the process.
He completed the walk in May 2006 and has been helping people to meet their own weight loss goals ever since. A remarkable man.
A couple of personal favorites :
Preparations for the trip – These are the short walks Steve performed while getting ready for the trip. As you can see, his adaptation is incredible.
Steve's story – This was actually written after he completed the walk, and you can hear the difference. As he points out, once a change occurs in the way you see the world; going back to the old way isn't even an option. Steve's definitely experienced such a change, and I look forward to seeing what projects he has in store.
A final thought
As sources of inspiration, these are at the top of my list. Who's on yours?